Happy Spring!
---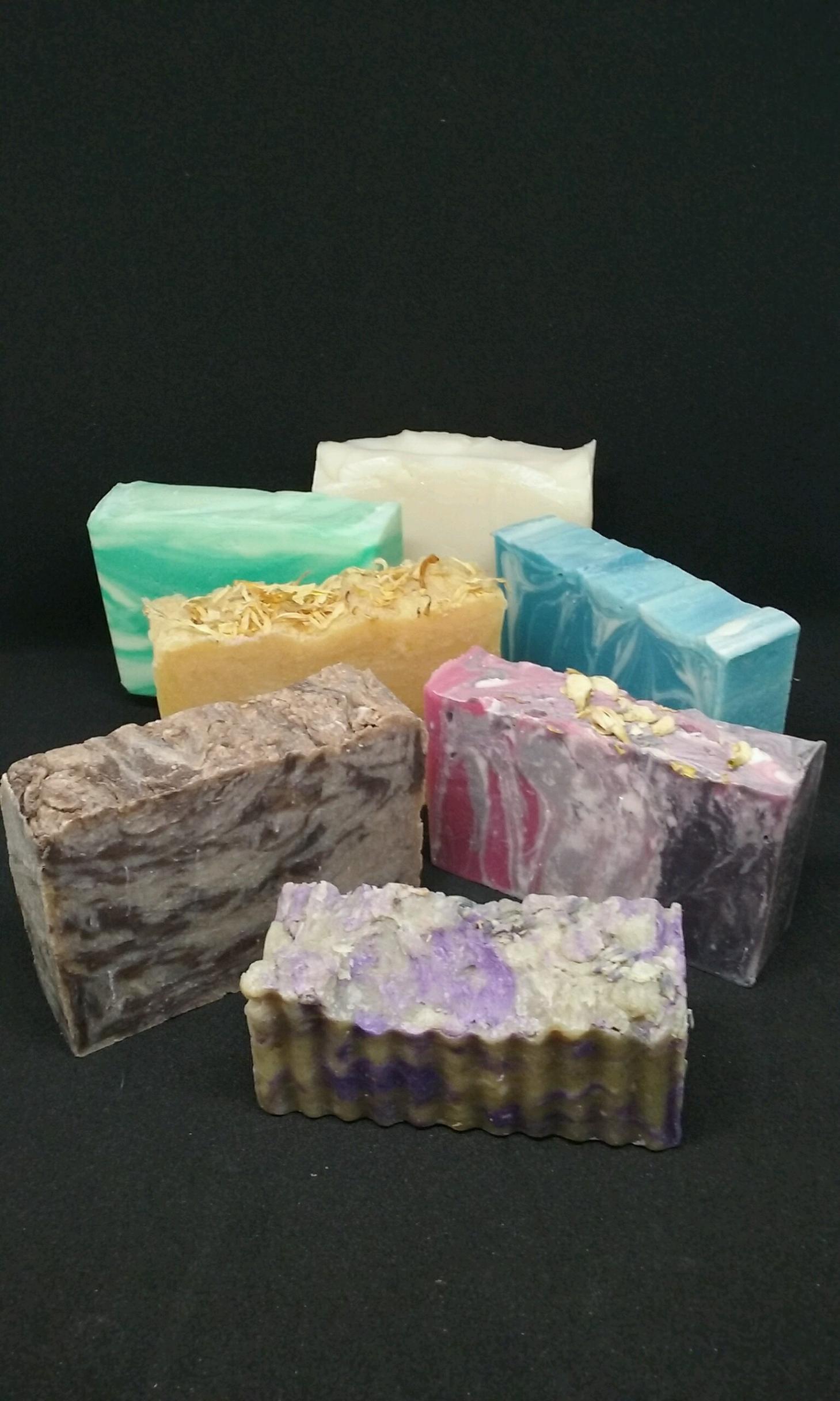 It's finally spring!  The flowers are blooming and the weather is finally warming up.  My chickens are enjoying foraging in the flower beds, and it is warm enough to allow my new chicks to go out in the yard.
We have some wonderful new spring products, just in time for Mother's Day!  Our spring lotion collection includes a variety of floral scents.  We have added new lotions in scents of Lilac, Honeysuckle, Lily of the Valley, and Baby's Breath.  The Lilac and Honeysuckle scents are a bit stronger.  If you are looking for a more subtle scent the Lily of the Valley or Baby's Breath may be more appealing.
Bath bombs or sugar scrubs are wonderful and decadent gifts for mom as well.  Moms usually won't buy pampering items for themselves.   What a wonderful way to encourage the special woman in your life to take some "me" time.  Springtime also brings new soaping inspiration.  We have several new soap products in bright spring colors and scents.
Orange Spice Soap
Combines fresh orange with cinnamon leaf essential oils for a wonderfully scented soap.  Calendula flowers and orange peel powder provide the beautiful orange color and mild exfoliation.  Shea butter also leaves your skin feeling soft and silky after washing.
Lemongrass and Lavender Soap
This beautiful green soap has a subtle purple swirl through it.  Lavender buds and green zeolite clay provide gentle exfoliation while shea butter leaves your skin feeling soft.  The lemongrass and lavender essential oils are one of my favorite scent combinations.
Spearmint and Grapefruit Soap
This simple natural soap is uncolored and scented with spearmint and grapefruit essential oils, for those who prefer less additives in their soap.
Apple Sage Soap
The beautiful blue and white swirl of this soap is combined with popular apple sage scenting oil.  Rice bran oil is prized as an anti-aging ingredient, and has a high percentage of fatty acids, which makes it a great skin moisturizer.
Intoxicating Blossom Soap
The combination of Ylang Ylang and Palmarosa essential oils in this soap is reminiscent of walking through a summer garden.  This soap lathers well, and the scent holds well as you use the soap
Spring Rain Soap
The beautiful green and white swirl in this soap  just feels like spring!  And, the combination of palmarosa and chamomile essential oils smells so fresh and clean.  Babbasu oil has natural anti-fungal and anti-bacterial properties.  It is also an anti-inflammatory and is used to fight acne, reduce skin irritation, and decrease itching and dryness.  Plus, it also has natural anti-aging properties.
Lilac Soap
Many floral scents do not hold well in cold process soap, but this lilac scent has staying power.  And, the beautiful and colorful pink, purple and white swirl reminds you of the varied colors of lilac blossoms.   It makes a lovely Mother's Day gift
If you have never tried hand made soap before, spring is a great time to do something wonderful for your skin.  You will be amazed by how soft and smooth your skin feels when you use soaps with natural glycerin and skin loving oils, and none of the chemicals you often find in store bought soap.  Do your skin a favor and  try one of our spring skin products!