Happy Easter – Happy Spring!
---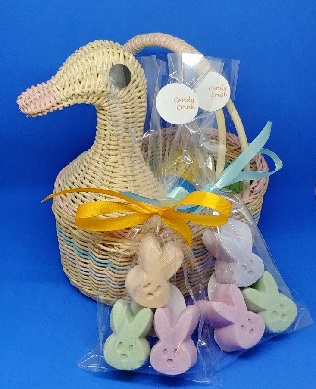 Easter and spring!  After this wet winter, spring fever is coming early at our house.  For Easter We have some always popular and some exciting new items to highlight this month.  Children love Easter treats.  Barnyard Creations "treats" are fun, smell wonderful, and don't add calories or destroy your children's' teeth!
As an alternative to candy, some fun items for your children's Easter baskets are:
Mermaid soaps – sparkly layered soap in aqua, pink or purple.
Animal and car shaped soaps in a variety of colors and scents (6 different animals and 3 different vehicles).
Harry Potter soaps – different shapes related to the Harry Potter books – 4 small soaps to a bag.
Bunny bath bombs – 3 to a bag, mixed scents and colors.
Sweetie tarts bath bombs – look like candy!
Fizzie bubble powders for the bathtub – sprinkle under running water for foam, bubbles and fizz.
Flavored lip balms – many fun flavors.
And, for the adults who still like Easter goodies:
Sugar scrubs – a decadent shower experience! Turns your shower into a spa and leaves your skin feeling silky smooth and clean.  A wonderful and pampering gift!
Bath salts – Himalayan Sea Salt and Epsom Salt blend with sparkly mica coloring and relaxing scents, in a glass bottle with a cute wooden scoop!
Lotions and body balms for additional skin pampering…and MORE!
See our gift bag or gift basket section of the site.  We have lovely wrapped gift bags for $6, gift baskets for $10, and cigar boxes for $15.  We do the packaging for you!  Or, we can do custom baskets with items of your choice.
Please call to order, or use our website store, and we will ship to you.  Free delivery in Licking County.
For many of the products in this post, click HERE.