Introducing 2 New Specialty Soaps With Unique Skin Benefits!
---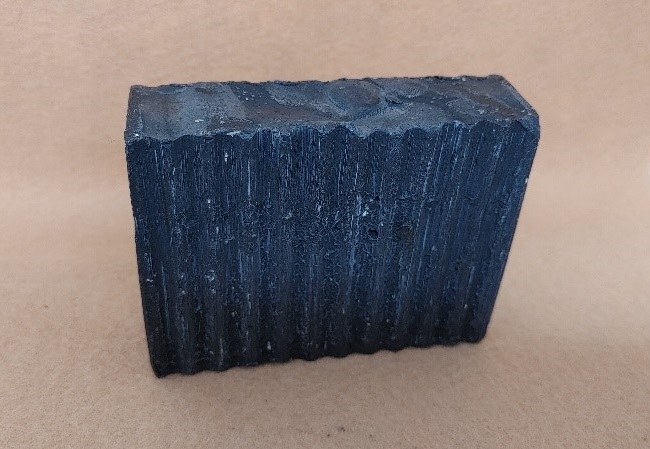 Winter is a great time for experimenting with new recipes.
After Christmas I take a break from craft shows and have time to catch up.  So, with this blog post I would like to introduce our two newest specialty soaps.
At every craft show I am asked about Poison Ivy Soap, and I always have to say I don't offer it.  I am pleased to say that I have finally taken the time to research recipes, and I am introducing a poison ivy soap to the product line.  The old timers used lye soap for many things, including treating poison ivy and other skin irritations.
The key to the effectiveness of lye soap was the strong lye solution and the use of non-exotic oils, like rendered tallow or lard, in their soap.  Other old time and modern soap makers use jewel weed in their soap to treat the itch of poison ivy and wash its oils off the skin.  After much research, I have developed a recipe with the following beneficial ingredients/properties:
Old fashioned lye soap – I used beef tallow as the primary ingredient, so it more closely mimics old fashioned recipes. But, I also included small amounts of coconut oil for cleansing, olive oil for gentleness, and castor oil for lather.
Jewelweed – known for its anti-itch properties, jewelweed is a common ingredient in most poison ivy soaps. Substances in jewelweed may prevent poison ivy oil from penetrating the skin.
Plantain – plantain has long been considered by herbalists to be a remedy for inflamed skin, eczema, dermatitis or insect bites.
Oatmeal – oatmeal has been used for centuries to soothe irritated, dry, itchy skin. It has both antioxidant and anti-inflammatory plant chemicals.  Oatmeal is also gentle for all skin types, even the most sensitive.  Oatmeal can be used in colloidal (finely ground) form or in a whole or coarsely ground form.
Chlorella powder – Though chlorella is often used as a colorant in soap because of the lovely green color it produces, it also is known for reducing redness and inflammation on the skin. Plus, it is thought to restore collagen production of the skin, which can improve skin tone.
In this soap, I infused both the water and coconut oil with plantain and jewelweed, to gain the skin benefits of both.  I included chlorella powder as a colorant and for its skin benefits.  I normally superfat my soaps at 4-5% so they are moisturizing and do not dry the skin.  I superfatted this soap only at 1%, so it effectively cleans poison ivy oils off the skin.  Because of that, it may be a bit less moisturizing, but it should clean skin very well.  Since the primary purpose of this soap is to reduce skin irritation from poison ivy, less moisturizing is a tradeoff.  Also, I included roughly ground oatmeal, both for its skin soothing properties and to provide a moderate level of exfoliation, which will help to fully remove poison ivy oils from the skin.
I am excited to introduce this new soap, and hope that customers like it as much as I do!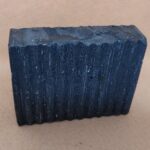 I also have done some research into African Black Soap, since so many people use it for its skin improving properties.  True African Black Soap is a proprietary product made in West Africa, with ingredients like burnt cocoa pod ash, not easily found or reproduced in the U.S.  Some of the described benefits of African Black Soap are:
Safe for most skin types and washes off the skin easily without leaving residue
Anti-bacterial properties – one study in the Journal of Microbiology and Biotechnology Research found that African Black Soap removed bacteria from the skin better than many medicated soaps
May help treat acne and prevent oil buildup
May help reduce fine lines and dark spots
May help with makeup removal
May have anti-fungal properties
Skin soothing and naturally exfoliating
Some African Black soaps contain shea butter, which will moisturize the skin.  However, some may find that the ingredients in African Black Soap cause skin dryness or redness, and therefore cannot use it every day.
So, with that information, I set out to develop a recipe for a black soap that would reproduce the skin benefits of African Soap, but also be moisturizing and gentle enough to use every day.  I tried to use as many of the ingredients of African Soap readily available and beneficial for the skin, but also included some ingredients that reduce drying effects and sooth sensitive skin.  The result is mildly exfoliating, moisturizing, and gentle.  I am excited to share it with you.  Some of the beneficial ingredients in my Barnyard Black Soap are:
High oleic sunflower oil – in addition to Omega-3 and Omega-6, high-oleic sunflower oil contains Omega-9. All three of these monounsaturated fatty acids (MUFAs) can help prevent and reduce skin inflammation, protect against infection, and reduce signs of aging caused by sun exposure.
Shea butter – shea butter is known to be moisturizing, anti-inflammatory, and its antioxidant properties may promote anti-aging. It may also help fight skin breakouts.
Cocoa butter – has a high amount of fatty acids, and is very moisturizing for the skin. It creates a protective barrier over the skin which can prevent dryness.
Oatmeal – Oatmeal is used to soothe irritated, dry, itchy skin. It has both antioxidant and anti-inflammatory plant chemicals.  Oatmeal is also gentle for all skin types, even the most sensitive, and is a gentle exfoliant.
Activated coconut ash charcoal – charcoal is the latest skin craze, but use of activated charcoal dates back to the ancient Egyptians, who used it for deodorizing, preserving, anti-inflammatory and anti-fungal purposes. Today, charcoal is a common ingredient in skin care products because of its anti-inflammatory, anti-fungal, exfoliating, deep pore cleansing, and oil balancing properties.
Plantain – plantain has long been considered by herbalists to be a remedy for inflamed skin and dermatitis.
Tamarind paste – tamarind contains alpha hydroxy acids (AHA), which are known for their exfoliating properties. It unclogs pores, may reduce age-related spots and blemishes, and may help keep skin clear. Tamarind also is thought to have an anti-aging effect on skin.  Its antioxidants, plus vitamin C and A, may prevent formation of free radicals.
Tea tree, rosemary, and eucalyptus essential oils – all of which have anti-bacterial and anti-inflammatory properties.
This soap is superfatted at 4%, so is very moisturizing for the skin.  Rosemary, Aloe and Oat extracts are botanicals that are also moisturizing and soothing for sensitive or dry skin.  I think that people who both love and have been unable to use African Black Soap will love my Barnyard version!