New Spring 2022 Soap Offerings
---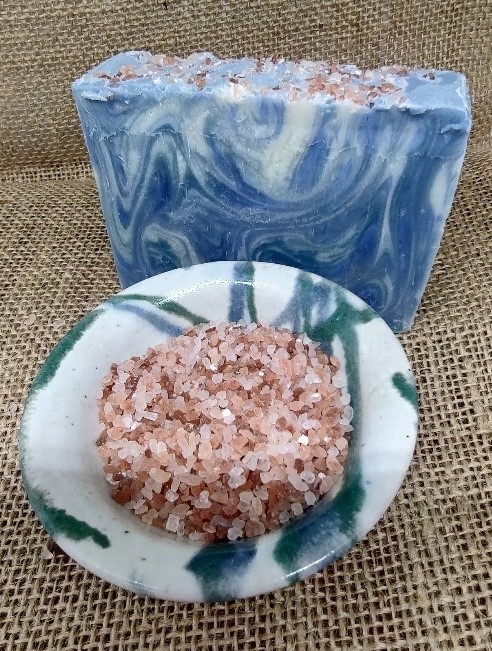 With the colors of a monarch, and the scent of a flower garden, this soap is a beautiful spring addition to the shower.  Shea butter is moisturizing, Evening primrose oil nourishes mature skin, and jojoba oil forms a protective moisture barrier on your skin.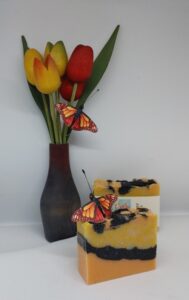 Most soap is made with coconut oil, leaving few options for people who have a coconut oil allergy.  Pure castile soap is traditionally made with olive oil only, and creates a hard, long-lasting, and gentle soap.  However, lather from castile soap is often very creamy with few bubbles.  This soap is primarily olive oil based, with a small amount of castor oil to improve lather, kokum butter to make it harder, and clay for skin cleansing.  It is a wonderful option for people with allergies.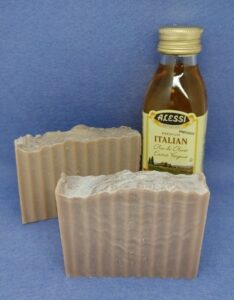 With a sweet and fruity scent, and a beautiful design, this soap is a favorite.  It is very moisturizing, and has a wonderful bubbly lather.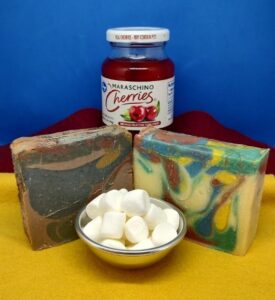 This soap was designed to have a "wood grain" look.  Though on this first attempt it doesn't exactly look like wood, it does have a beautiful appearance and fragrance.  The scent, intended as a masculine offering, is broadly appealing.  It is a beautiful and fragrant addition to the shower.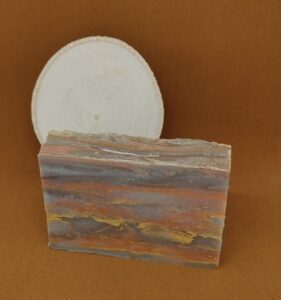 Just like a light pale ale, this soap is a wonderful spring and summer offering.  The appearance and scent are intoxicating – light, sweet, and fruity, with a wonderful bubbly lather.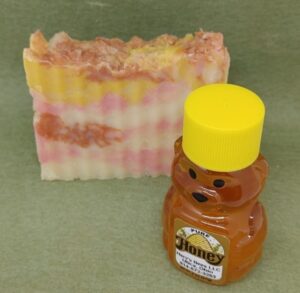 With a subtle masculine scent, and beautiful appearance, this soap is a winner!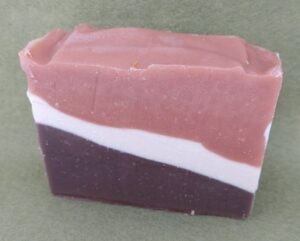 This soap is modeled in appearance after a piece of petrified wood.  It is sparkly with layers of brown, pink, gold and white, with colored sea salt on top.   It has a bubbly lather and leaves skin moisturized.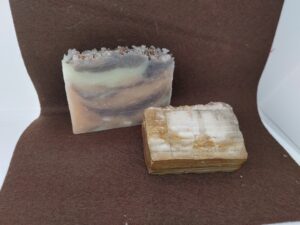 With a distinctly masculine scent, and gray, red, and white swirl, this soap is a wonderful addition to the shower.  It is a hard bar of soap, with moisturizing oils that will leave your skin feeling wonderful.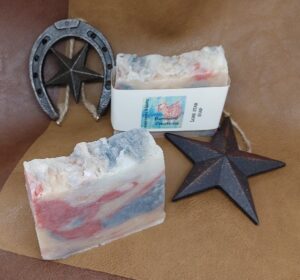 This is a truly beautiful soap.  With a multi-tone blue swirl, and a mesmerizing scent, this soap is an instant favorite.  It is a hard and long-lasting bar of soap, with a bubbly lather.  Clay anchors the scent, and is super cleansing.  Shea butter adds extra moisturizing, jojoba leaves a moisture barrier layer on the skin, and evening primrose oil nurtures mature or dry skin.  Pair this soap with bath bombs or lotion of the same scent.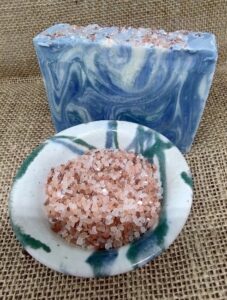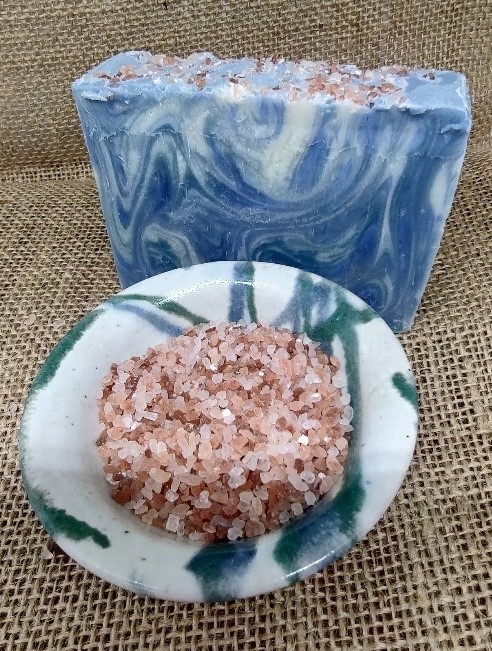 We've updated our shaving soap with a new look and new skin nourishing additions.  Bentonite clay increases slip, so the razor glides easily on your skin.  The additions of mango butter, hemp seed oil, and wheat germ oil are very moisturizing and nurturing for skin.  This is a great shaving soap and also a wonderful all-over body soap.  The beautiful green, purple, pink and white swirl and botanical spa fragrance add to its appeal.