Happy Mother's Day!
---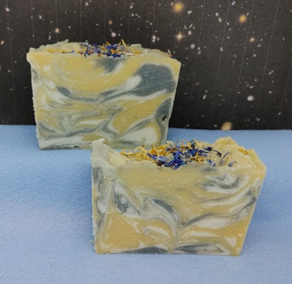 Mothers don't often take the time to care for themselves, so pampering items and the time to use them are a wonderful gift for mom.
Purchase your items, and we will beautifully package them for mom!  Our special gift boxes include a bar of soap, a 2 oz. bottle of body lotion, a 2 oz. hand sanitizer, and a lip balm for $15.  You can choose scents of each item.  Also see other gift bag/box options on our website!
We also have some new soap offerings this spring! 
Star Showers
The beautiful blue and yellow swirl in this soap looks too pretty to use.  The dried calendula and cornflower on top adds to the beauty of the soap.  We included liquid silk in this soap to give your skin a luxurious, soft, and "silky" feel.  Rosehip seed oil is nourishing especially for mature skin.  And, the fragrance of this soap is truly heavenly!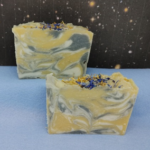 Sunset Swirl Soap
This soap is a beautiful and bright addition to your shower.  It has a lovely fresh scent with citrus notes.  This is a very moisturizing soap, with Shea butter and Evening primrose oil, which are especially good for mature skin.  Jojoba oil is actually a liquid wax, which leaves a light layer on the skin, and holds moisture in the skin.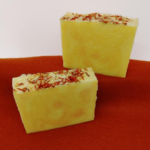 Rainbow Soap
The layers of mica in this soap are the colors of the rainbow!  The moisturizing recipe leaves your skin feeling wonderful, and the fresh scent brightens your bath.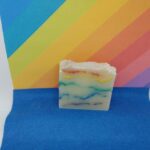 Berry Soap
This is a beautiful layered soap in the colors of fresh berries!  The scent is a lovely mixed berry combination, and the splash of heather flowers on top makes it especially beautiful.  The recipe is a gentle and nourishing blend of mango butter, wheat germ oil, and hemp oil, with rosehip seed oil for mature skin.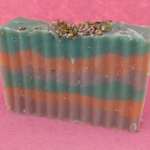 Pink Pomelo and Himalayan Salt Soap
This moisturizing soap leaves your skin very soft and smooth.  With a splash of pink salt to exfoliate, your skin will feel wonderful.  This soap has less salt content and is less scrubby than the salt spa bar, for those who want a medium strength exfoliation.  The scent is very mild and pleasant.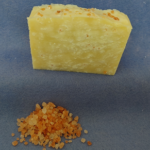 If mom loves gardening, this specialty soap may be perfect for her…
Also, consider some other items to pamper mom:
Ultra rich body lotion – skin loving oils and extracts to soften and soothe winter-dry skin. Check out our new scents!

Bath bombs

Bath salts – various attractive scents and colors

Lip balms made with infused oils for healing skin properties for lips dry from winter air

Email or call to order.  We will lovingly package the perfect gift for your special mom!