Happy Easter, Happy Spring!
---
Easter and spring!  Now that Valentine's Day is over, it is time to think about Easter.  This year we have an exciting new Easter offering for children who love bath bombs.  This is an adorable and fun alternative to Easter candy.    These "treats" are fun, smell wonderful, and don't add calories or destroy your childrens' teeth!
These cute little egg cartons contain 6 colorful and sparkly egg-shaped bath bombs.  They are scented with "fruit loops" fragrance, and contain ecoglitter, which is biodegradable.  They will make the bath water a beautiful bright color, but will not stain your tub.  At $15, they are also reasonably priced.  The egg cartons come in 6 different colors as well!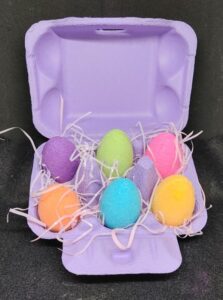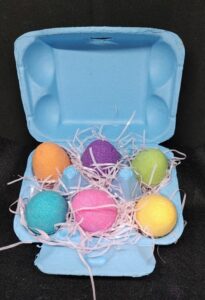 The supply of these gifts is limited, and they are only available for a short time.  Please call to order, or use our website store, and we will ship to you. Free delivery in Licking County!  Orders must be placed by March 31 in order to be received by Easter.
Click HERE to view and order!