NEW! Bath Bomb Gift Boxes
---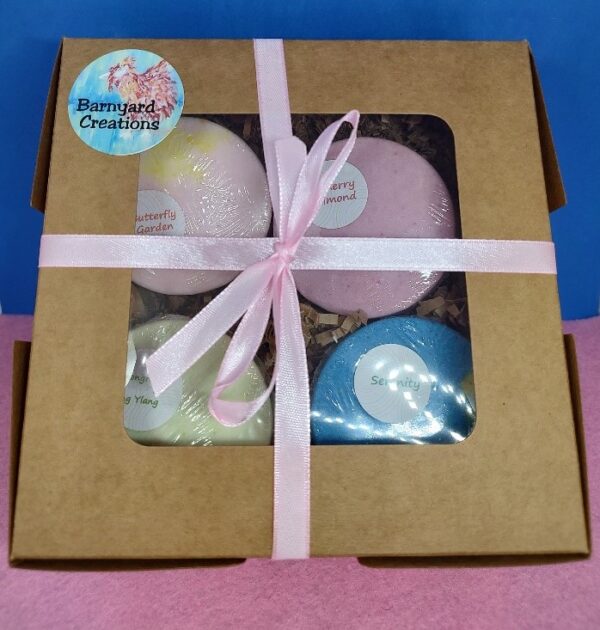 Our bath bombs are popular, and many people purchase multiples.  This is a wonderful way to gift someone who loves bath bombs.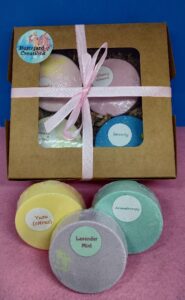 Purchase either 4 or 6 bath bombs in fragrances of your choice, nicely packaged in a gift box and tied with a ribbon.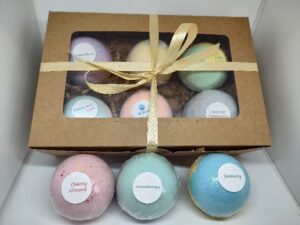 Prices
Box of 4 standard bombs $10
Box of 4 spinning milk bombs $14
Box of 6 standard bombs $14
Box of 6 spinning milk bombs $20
Updated bath bomb scents – all scents are available in both standard and milk bombs:
Apple sage
Aromatherapy
Brambleberry
Butterfly garden
Cherry Almond
Fresh air
Fruity fusion
Island escape
Lavender chamomile
Lavender mint
Lemongrass & Ylang Ylang
Peace and love
Rose quartz
Sea salt & lily
Serenity
Star showers
Turquoise
Vanilla fig
Yuzu
Click HERE to shop Bath Bomb Gift Boxes!