Gifts for Your Valentine!
---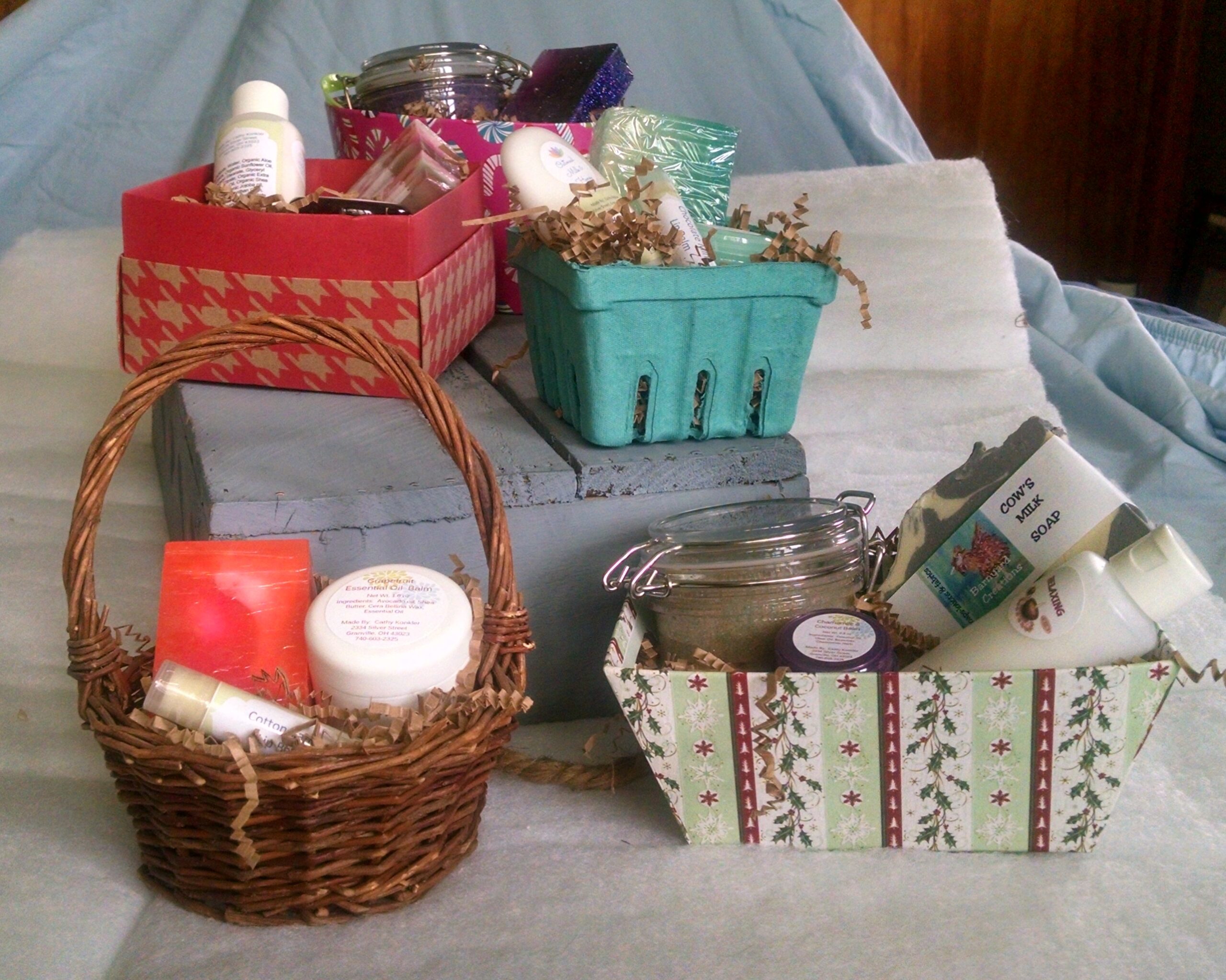 Looking for a thoughtful and indulgent gift for Your Valentine that is an alternative to the usual chocolate or roses?  Consider a gift basket filled with skin pampering items!  For the women in your life bath bombs, skin balms or lotions, natural lip balms, or soap loaded with natural glycerin and no chemicals (like what you find in commercial products) make wonderful gifts.  For Valentine's Day, we also have created a variety of new bath items, including a bag of smaller, heart-shaped bath bombs with shea butter, jojoba and avocado oils, all of which have wonderful skin softening properties.  And, the apple sage scent is heavenly.  Other new bath bomb items:
Natural bath bombs, scented with Rosemary & Lavender essential oils
Glitter bath bombs, colored with micas and scented with Turquoise fragrance oil – with biodegradable eco-glitter
Bubbling bath truffles, with salted caramel, turquoise, rose quartz, or cocoa butter cashmere scents
Smaller, heart shape, bath bombs, bag of 4
"Kiddie" size bath bombs with heart shapes in a bag of 8 (Great for your little Valentines!)
Cupcake bath bombs – birthday cake, lemon or snickerdoodle scents
Rose shaped bath bombs, rose quartz scent
For the man your life, we also have some thoughtful gift ideas.  Men love our lip balms, and we offer many handmade soaps with scents pleasing to men.  Also, body balms are wonderfully soothing to skin after shaving, or to sooth skin dried by frequent hand washing.  Scrubby soaps are great for gardeners, mechanics, hunters, or anyone who gets grimy hands.
Rustic Desert soap – shredded loofah and strawberry seeds help to clean the hands.  The pleasant bamboo scent leaves hands smelling fresh and clean
Green gardeners soap has shredded loofah and walnut seeds to provide a very scrubby soap to clean especially grimy hands.  The scent is a pleasant sweetgrass scent
Gardeners cold process soap is a layered soap with lavender buds, calendula petals, coffee grounds, and a lavender scent leaves hands wonderfully soft and removes odors
Kitchen soap – This is a goats milk soap with coffee grounds to provide exfoliation and remove odors from the skin.  Works great in the kitchen but also works anywhere you need to remove grime and smells from your hands!  Include coconut cream or espresso scents.
Lastly, women and men love our sugar scrubs!  Sugar provides mild exfoliation, and quality oils provide emollient properties, leaving skin soft and smooth.  All scrubs have gentle soap in them, so you can clean and exfoliate at the same time.  You may even notice improvement in eczema and other drying conditions with repeated use.  The scrubs come in multiple sizes, and also in decorative bail jars, which make beautiful gifts.